Selecting your Default Settings
The default settings selected here are only applied to new Tokens or Pages you create in your game. To have these settings be applied to all existing Tokens and Pages, see the Applying Default Settings section below.
Adding Updated Dynamic Lighting to your game should be easy and simple, that's why we have provided the option to select and apply default settings for Updated Dynamic Lighting to both your Tokens and Pages! 
To get started, navigate to your Game Details Page, find the dropdown titled Settings, and click on the Game Settings link. From there, you will be greeted with all the various settings that are available in your game. For more information regarding this page, check out this guide on Game Management. Otherwise, go ahead and navigate down to the collapsible-section titled Game Default Settings and click on it.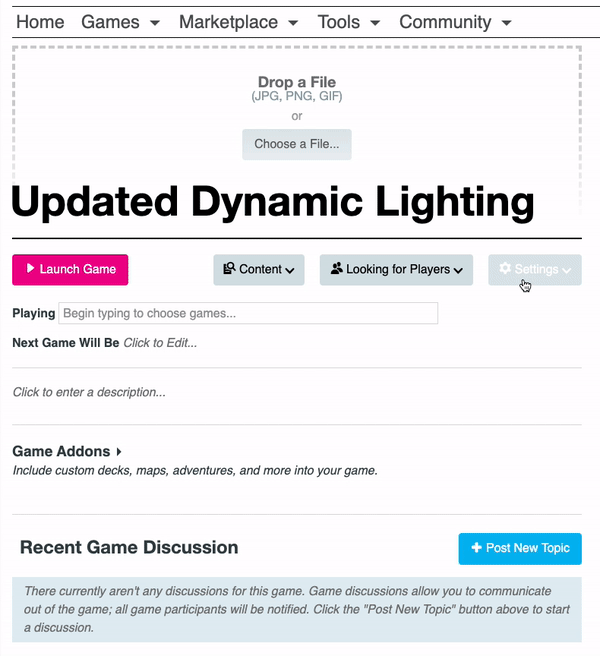 From there, you will see all the default settings which are available for you to change. There are two save points that you need to click on. After you've entered your changes, click the Save Defaults button at the bottom of the section.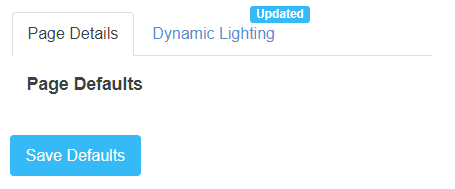 Next, you'll want to scroll down further to the bottom of the page and click Save Changes.

You'll have a notice at the top with "Settings Saved Successfully" as a confirmation.

---
Applying your Default Settings

Default Page Settings for Updated Dynamic Lighting, along with any other default settings that you changed, can be applied to existing content within a game. This has to be done within the VTT.
Launch your game, go to the Sidebar and click on the My Settings tab (the cogwheel icon in the top right).

Scroll down to the bottom of the tab until you find the Apply Default Settings button underneath the Miscellaneous section.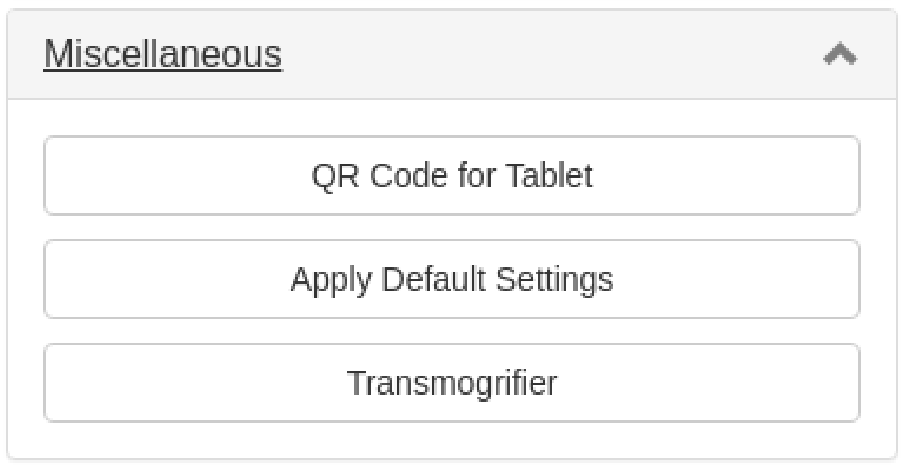 The Apply Default Settings button will ONLY appear if you've changed your Default Settings.
Clicking on this opens up a dialog box that's sectioned off by character sheet, page and token settings. For each default setting you have changed, a checkbox will appear under its relevant category. Check each option you want to apply across the entirety of the game.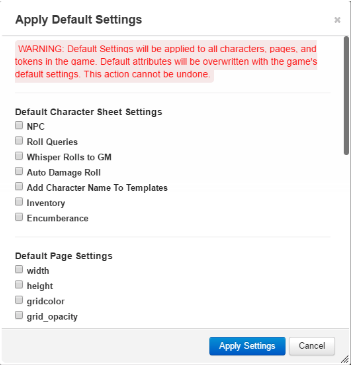 When you're ready, click on the Apply Settings button. A confirmation alert will appear telling you how many pages, tokens, and/or character sheets will be altered. Click OK through the alert to begin the settings conversion.
If you drag/drop tokens to your page, you will need to repeat the Apply Settings steps again from your settings tab.
Applying Settings will not alter ALL characters, pages, and tokens in your game. Related attributes of these items will be overwritten with the settings you have checked off in this applier. This process CANNOT be undone!
A progress bar will appear at the top of the Apply Default Settings window, updating your existing character sheets, pages and tokens with the desired changes. Depending on how many items are in your game, a settings conversion may take anywhere from a couple of seconds to a couple of minutes to complete. You can cancel out of the application process at any time by hitting the ESC key.
---