Once you've been approved to sell on the Marketplace as a Roll20 Creator, you may join a Discord server set up specifically to connect you with other Creators and the Marketplace staff at Roll20.
How to Join
Your onboarding email will contain an invitation link, but if you happen to misplace that, simply contact us through our web form using the following dropdown prompts:
Roll20 Marketplace - Creator

Existing Creator

I need an invitation to the Creator Discord
We'll get you sorted right away!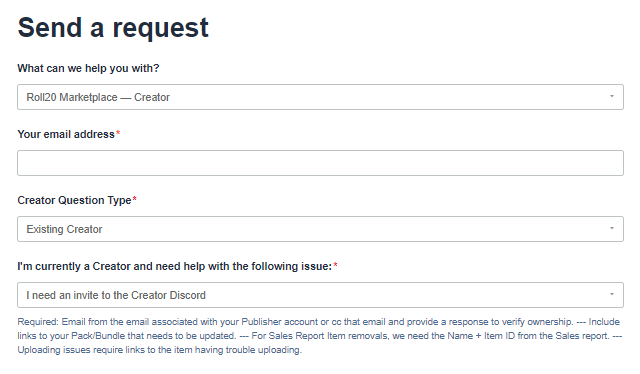 What happens there?
On the server, you'll have access to channels that provide a changelog of Marketplace improvements, opportunities to connect with fellow Creators to ask questions, co-work, show and tell, and socialize, a suggestion box for ways Roll20 can improve your experience as a Creator, helpful resources, as well as dedicated support from Marketplace staff for any questions or troubleshooting that you may have throughout your workflow.