This article is meant to help fast track common requests that require direct assistance from our Customer support Team.
---
How do I restore a game that's been deleted?
Restoring deleted games is quick and easy for our support team. We simply require the name of the game or an old link to the game for us to restore. If there are multiple games sharing the same name we will restore all copies to provide fast support.
Please note, that we can only restore games up to 6 months after deletion.
Restore Deleted Game Request
I deleted or cannot locate my account.
Finding an account can be tricky. For us to assist quickly, we ask that you provide any possible email address or user names you may have used. If you have a link to your profile or a game you used to be part of it can also help us restoring access to the account.
Lost Account Help
---
I need help resetting my password.
If you are having difficult resetting your password you can reach out to us providing your email address or a link to your account and we can assist in restoring access.
Password Reset Help
How do I retrieve a deleted map/character/journal entry from my game?
The only way to recover a lost portion of an existing game is through a Rollback. The system stores save points for a total of 7 days. Pro users have this feature available on the game's details page under the settings tab.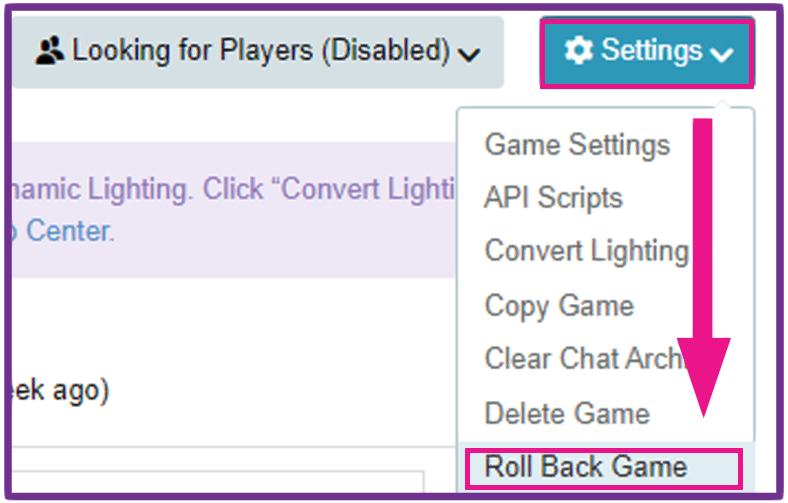 If you believe the data was lost due to an issue on Roll20 you can contact us directly for assistance.
Rollbacks are time-sensitive due to the 7 day time frame. Any missing information may cause delays to your request, and therefore may lose the opportunity to use the rollback function. Please include the following information in your description.
A link to the campaign

The date & time your game was last stable

The name or additional information of any lost assets (character name, map name, etc.)
Note: A Rollback may not be able to recover the lost information, in which case that data is permanently lost. It's highly recommended that you create a copy of the game for backup purposes before conducting the rollback.
I need to transfer ownership of a game to someone else.
If you are the game creator, please provide us with a link to the game as well as a link to the Roll20 profile of the user the game will be transferred to.
Please note, we cannot honor requests from anyone who is NOT the game creator or owner.
---
I need to merge my account(s).
Merging accounts is fairly straight forward for our team. We simply need to know the account you would like to keep and the account that should be merged.
Do note that merging accounts will NOT merge the following:
Art Library uploads
Time Played values
Achievements
---
I'm having a different issue.
If you are encountering an account related issue outside of what is listed above, please contact us via our webform and we will help as quickly as possible!