Addons are additional content that enhances games, such as card decks, maps, single encounters, and ongoing adventures.
Watch our video tutorial below for a quick start guide on using Addons.
After purchasing your Addon, a purple button will appear offering the option to "Create Game with Game Addon." Click the button to go directly to the Create a New Game page. The Addon will be automatically added after game creation..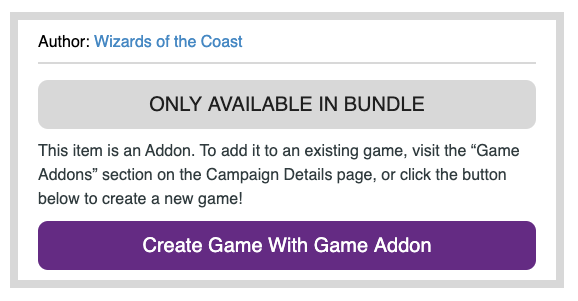 The Addon's Marketplace description provides instructions on how to include the Addon into the game, the recommended Character Sheet (if applicable), and a link to the Bug Report Thread for the product.

Addons can be accessed from the Game Details page. The Game Addons dropdown will have every available Addon listed. 

---
Installing Addons
Installation is simple. All you need to do is the following:
Expand the Game Addons section in the Game Details page.

Select the desired Addon by scrolling through the list or searching by name.

Click the Add to Game button. 

When you launch the game, your Addon will be available in-game. 
Adventure Addons will create handouts and entries under the Journal tab and new Pages in the Page Toolbar for included maps. Map Addons will create new Pages for maps.
---
Removing Addons
To remove Game Addon content, delete the addon from the Game Details page. If you accidentally delete a Game Addon, remove the Addon from the Addon List on the Game Details page, and add it back to the game.
You can also use this process if you accidentally delete specific items in-game and need to re-add them. Please note that removing and re-adding a Game Addon will overwrite the previous version of the Addon and any changes you may have made.
---
Bundles
A Bundle is a group of Marketplace items assembled together in a convenient one-time-purchase package. For example, the Volo's Guide to Monsters Bundle gives you not only the Compendium Expansion, but also an Addon and a Module version of the book's provided battle maps. When you view a Bundle's marketplace listing, all the available content will be listed under the section, Bundle Includes These Items:. If there is downloadable content (an image pack or a PDF for example), it will be available on the individual Marketplace item listing rather than on the Bundle's listing page. The access for these individual items will behave exactly in the same fashion as similar singular products.
---
Addon Troubleshooting
Accidentally Deleted Content in Addon
If you accidentally delete a Game Addon, remove the Addon from the Addon List on the Game Details page, then add it back to the game.
Are you still Having Trouble?